NPS in 2015 Part II: Technology & Travel
This blog post was originally written for my employer, Satmetrix, and is reproduced here with their kind permission. See
here
for the definitive version on the
Satmetrix blog
.
In the second of a three part series exploring findings from our latest study, I'll be covering findings from our US Consumer Net Promoter Study in the technology and travel industries. Part I covered the finance and retail sectors, and part III will look at trends emerging within the entertainment and telecommunications sectors.
Travel Websites
The fierce spending battle continues between Expedia Inc. and The Priceline Group, the two companies collectively spending more than $7.6 billion on acquisitions since 2013 ($3.2 billion for Expedia, $4.4 billion for Pricline). Expedia Inc.'s representation in our study is increased by acquiring Orbitz for $1.6 billion. The deal puts Expedia Inc. ahead of Priceline group in bookings volume, and market share, but it still lags their revenue and stock market capitalization.
While the acquisitions have made a big splash in the press, perhaps the bigger story is the escalating arms race in advertising dollars. Before Priceline broke the billion dollar mark in 2013, it's ad spend had tripled over three years. The two companies met each others rates of increase in 2014 - both increasing by around a third - with Expedia's $1.6 billion dwarfed by the $2.6 billion spent by Priceline.
The main beneficiary of this multi-billion dollar spending war is of course Google. The search giant is the primary advertising channel for both companies, but is increasingly competing with them, connecting travelers to flights and hotels straight from search results. If the two warring companies want to capitalize on their hard-won brand portfolios, they need to act fast to differentiate their customer experience, before they become just another click between a customer and a purchase.
Hotels.com saw the largest decrease in the entire study, with a 22pt drop in NPS. The Expedia brand which had occupied the #2 spot just a year ago fell into second-to-last place. Customers were significantly less satisfied with the deals and discounts that the site made available to them, as well as the quality of the options presented.
Travelocity, acquired by Expedia earlier this year for $280 million, also saw a significant drop of 10pts this year, accompanied by drops in the buying experience, and value for money.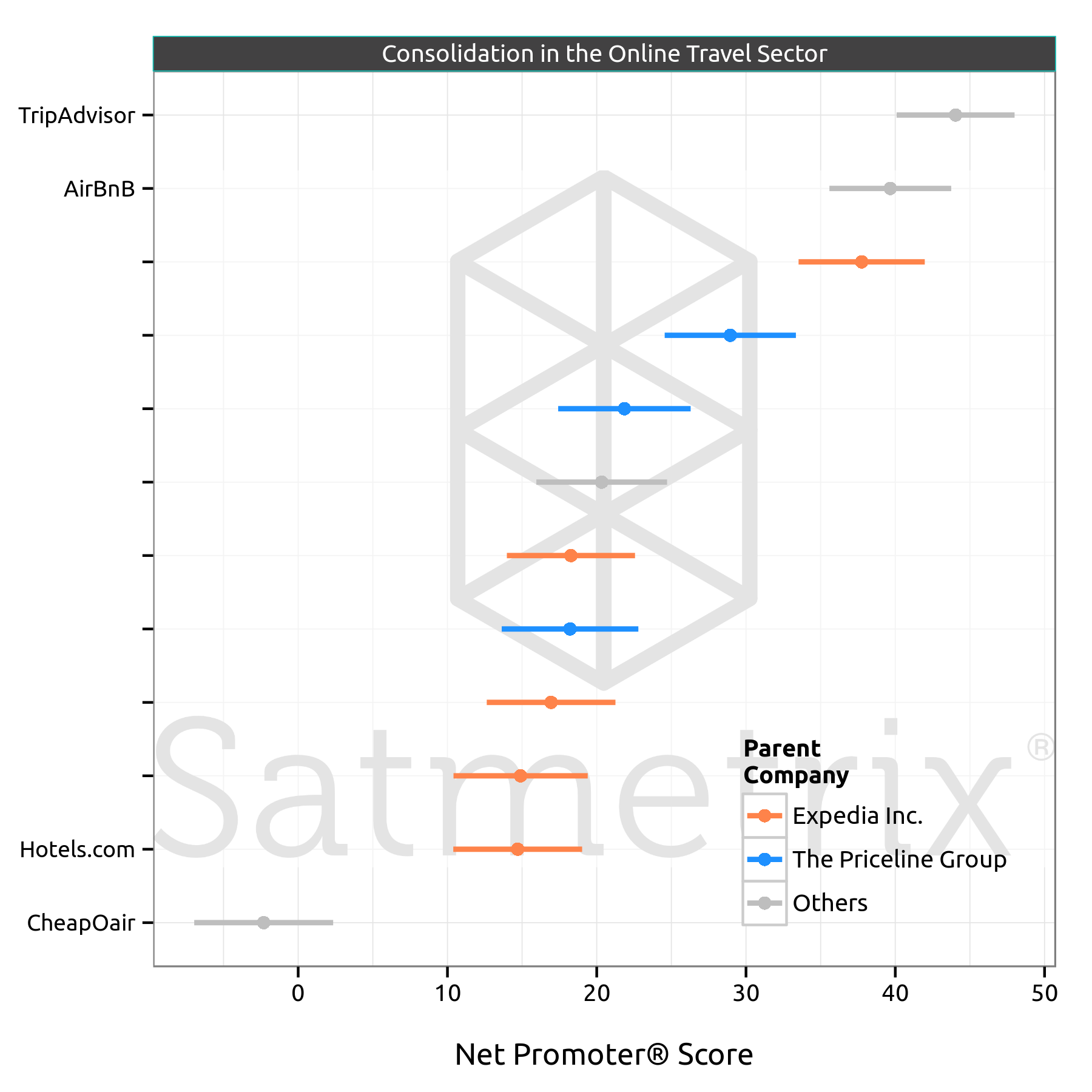 Orbitz, acquired by Expedia just weeks after Travelocity, saw no significant change in NPS, despite a new dining rewards program and an increased focus on the experience across devices. Former Expedia brand TripAdvisor, which was spun off in 2011, retained it's four-year run at the top spot, with increased satisfaction with the site's reviews.
Meanwhile new entrant Airbnb made it to #2 in the sector, with the highest scores for value for money. Two areas where it received relatively low satisfaction ratings were for deals/discounts, and trust in the options presented. There was less positive news for another new addition to the study, CheapOair. The company, who enter the benchmark in last place, have the sector's only negative score.
Airlines
Shake-up in the airlines sector this year, with recent leader Southwest's score falling sharply, and JetBlue's shooting up, and in to first place. Southwest saw significant declines for various measures around the flying experience, and value for money. JetBlue on the other hand increased satisfaction on measures around the buying experience. JetBlue's stock has been on a recent surge, with spectators attributing this in part to CEO Dave Barger stepping down - under pressure from investors for providing too many customer amenities. It will be interesting to see if JetBlue can maintain their #1 NPS in 2016 under new CEO Robin Hayes.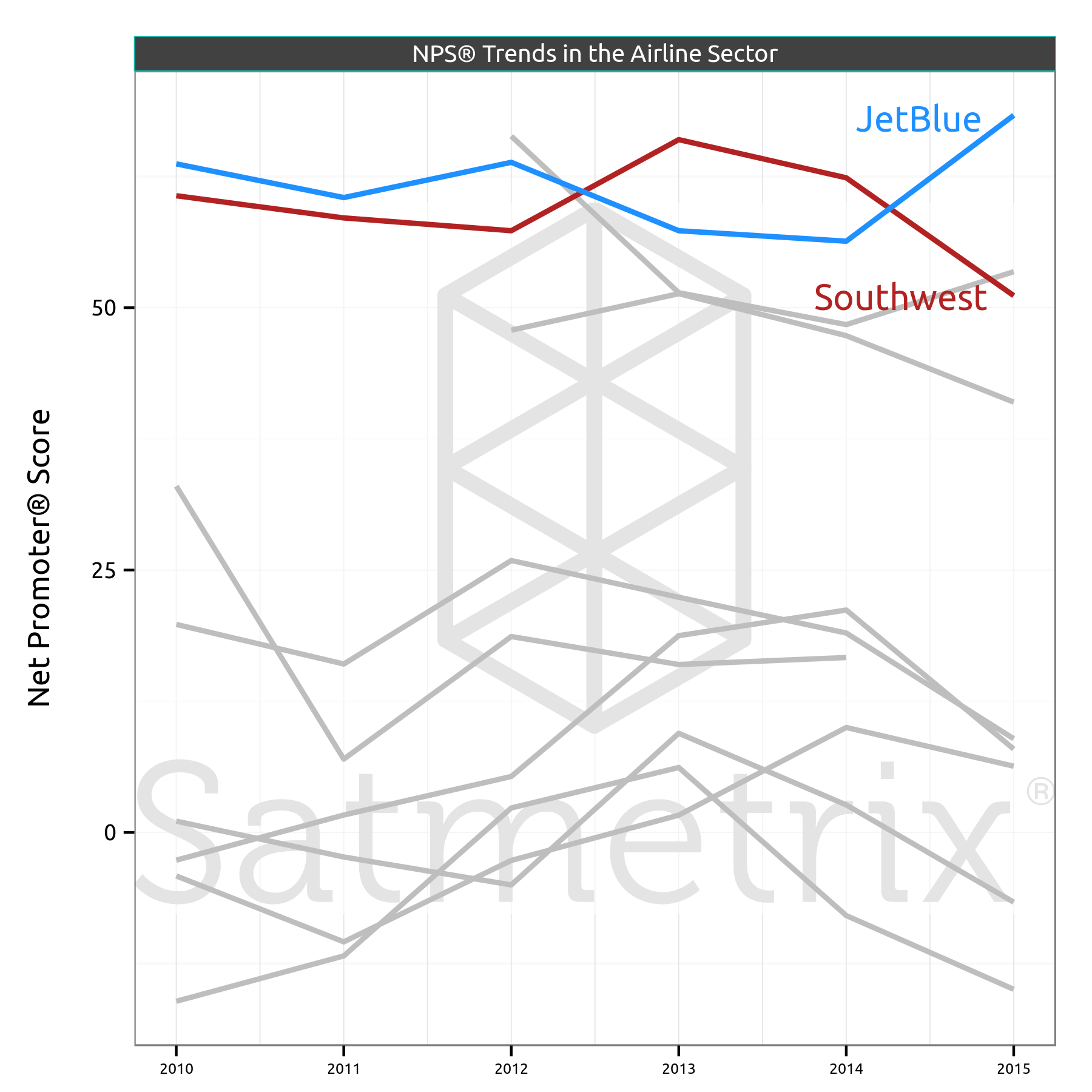 Virgin America, the #2 airline in our study, got the highest satisfaction ratings for the in-flight experience, (including cabin staff, food and drink quality, entertainment, and seat comfort), but less competitive scores for measures around billing and booking.
Delta and AirTran saw significant drops in their NPS, both companies now having an NPS of 8 - 60pts behind the sector's leader. Delta's decline appears to be driven by sliding perceptions of value for money, while AirTran's scores for the buying/booking experience were down on last year. US Airways remain at the bottom of the pack.
Software & Apps
Significant drop for this year for Apple iWork, with users less satisfied that it provides a complete solution, is easy to use, or aids collaboration. Turbotax lead the sector once again, with an NPS of 52. New addition to the study Flipboard enter the benchmark in last place with an NPS of -9, the first negative NPS for a consumer app in our study so far.
Two new additions who fared rather better were Uber and Lyft. The two companies' increasingly similar offerings did not result in similar Net Promoter Scores. Despite Uber having the lowest company reputation score in the sector (and one of the lower scores in the study), it had the second highest NPS for an app - a full 28 points ahead of Lyft. Lyft users gave the brand a relatively low score for reliability - the brand's strongest driver of loyalty.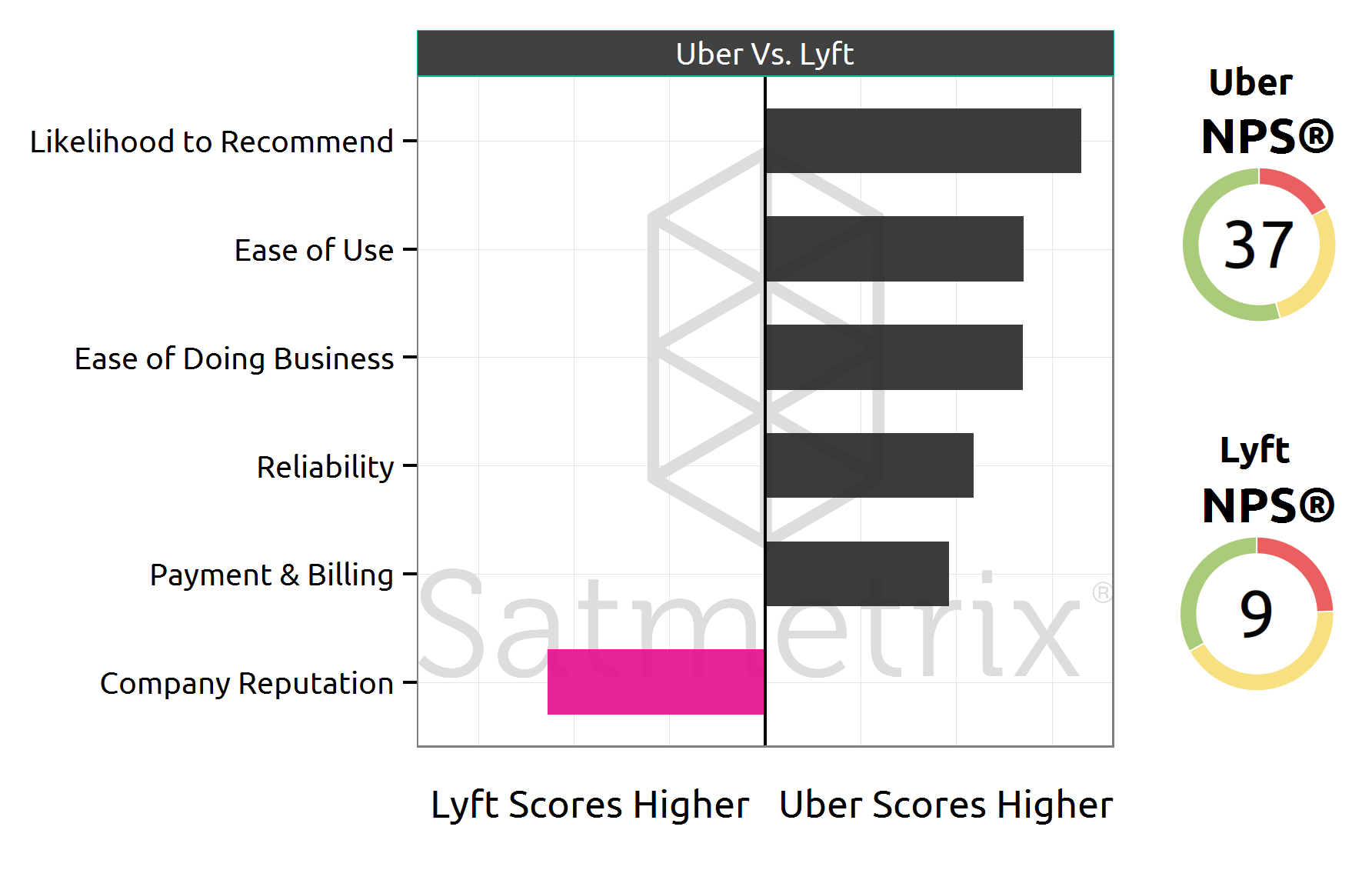 Hardware
In the laptop category, there were significant falls this year for companies exiting the space, leaving their customers in limbo. Unsurprisingly, customers of Sony's laptop business' decreasingly feel that the company treats them fairly. It's now just above value brands Acer and Gateway, who's scores also fell this year. Sony had been #2 only to perennial sector leader Apple just two years ago. While not as common, consumers who used Chomebooks were significantly more likely to recommend their products than were Windows users. In the tablets category, scores fell for the Microsoft Surface and Asus, with Apple's iPad again taking the top spot.
In smartphones, Blackberry saw the largest increase in the study! While still at the bottom of the rankings, customers reported increased satisfaction with screen viewing, likely in response the to company's recent higher resolution models.
This blog-post © 2015 Satmetrix Systems, Inc. All rights reserved. Satmetrix and the Satmetrix logo are registered trademarks. Net Promoter and NPS are registered trademarks and Net Promoter Score is a trademark of Satmetrix Systems, Inc., Bain & Company, Inc., and Fred Reichheld