NPS in 2015 Part I: Finance & Retail
This blog post was originally written for my employer, Satmetrix, and is reproduced here with their kind permission. See
here
for the definitive version on the
Satmetrix blog
.
In the first of a three part series exploring findings from our latest NPS Benchmark study, I'll be covering what we've seen in the financial services and retail sectors. Part II will cover tech and travel companies, and Part III will look at trends emerging within telecommunications and online entertainment.
The Satmetrix US Consumer Net Promoter study is now in its 15th year, and 2015 is our largest to date! Covering over 220 different brands in 22 different sectors, we've collected more than a million data points from over 30,000 individual US Consumers.
Consumer NPS: A Kink in the Trend
After consistent improvements in NPS across the study, this year is the first in five where, on average, Net Promoter Scores did not increase. In fact, they went down. This appears to have been driven by two main factors: the stabilization of the financial services industry, and a drastic erosion of loyalty in the telecommunications sector.
I'll cover this year's shifts in telecommunications in a later post, but first let's look at the contribution of financial services.
NPS and the Recovery from the Global Financial Crisis
In the context of consistently increasing scores, the financial services sector stands out this year because it didn't change much. After the dive in NPS during 2008-2009, many scores saw reliable annual increases. But with consumer NPS reaching (or exceeding) 'pre-crisis' levels last year, it looks like the banks can no-longer count on recovery alone to increase their Net Promoter Scores.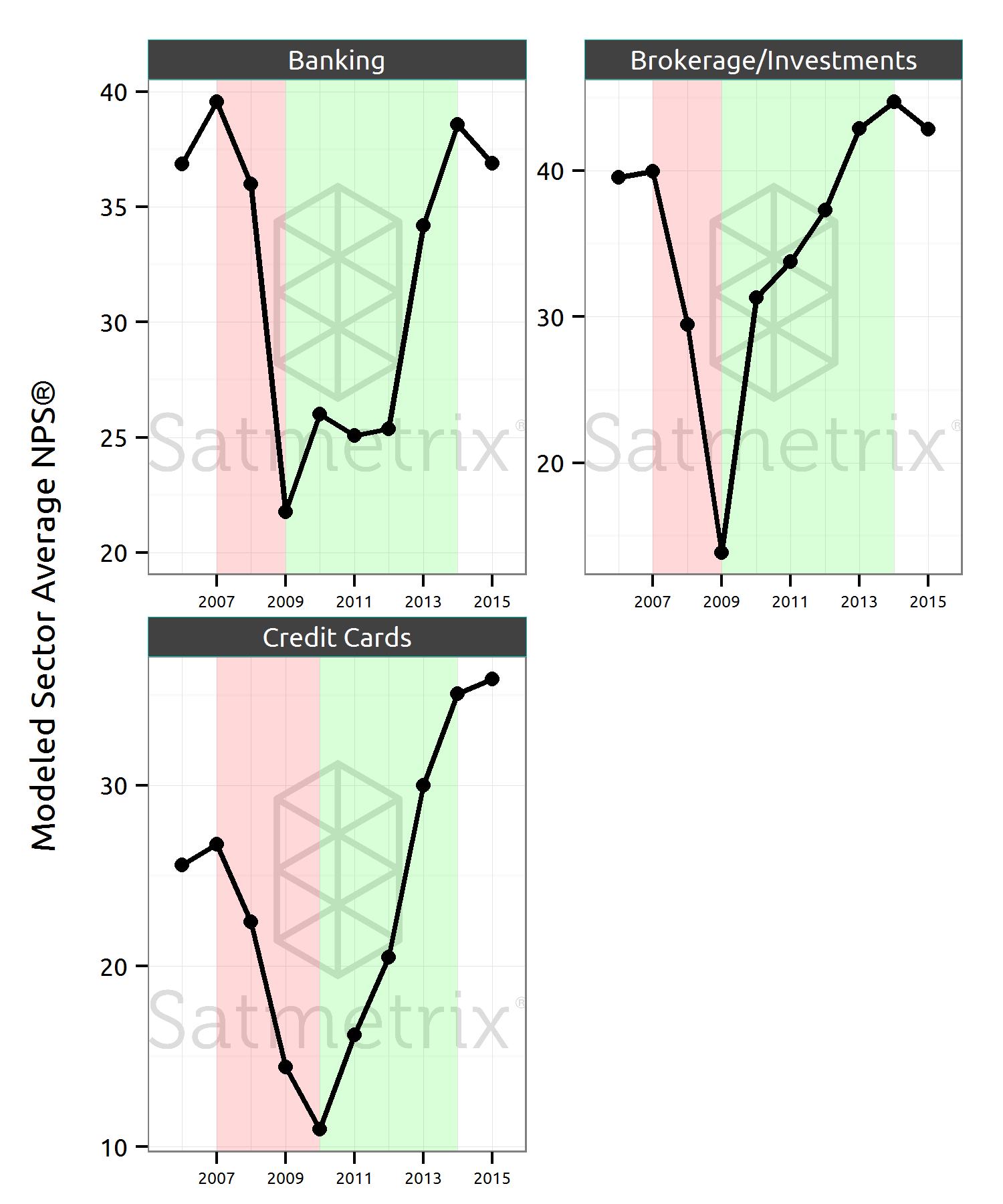 The most interesting movements this year came from the Brokerage & Investments sector, where Fidelity's score fell 15pts, accompanied by drops in satisfaction with fund performance, and confidence in the firms' risk assessments for funds. Merrill Lynch on the other hand saw an 11pt rise, taking the firm's NPS from second lowest to the middle of the pack. Vanguard maintained their #1 ranking with an NPS of 59, with the highest scores in the sector for value for money and company reputation.
Retail banking and credit cards saw a stable year, with few significant changes. USAA continue to lead the banking sector, with an NPS of 75 - way ahead of their competitors. SunTrust Bank retain their #2 ranking. In the credit card sector, the battle for the loyalty top spot between Discover and American Express continues, both companies scoring an NPS of 52 - 15pts or more ahead of every other company in the benchmark. While American Express customers weren't less likely to recommend this year, they were less satisfied on a number of measures, especially how widely the card is accepted - the one area where Amex were already rated worst in the study. Discover customers remain the most satisfied on most measures, this year reporting increased satisfaction with the fee structure. Citi cards remain the worst rated, having an NPS of just 19.
Insurance
In the auto insurance category, USAA lead the study again this year. However AAA take 2015's #2 spot, after a 20pt drop from State Farm, who fall into third place. Relative to 2014, it's customers were less satisfied that the company is easy to do business with, and acts in their best interests. The Hartford suffered a 15pt NPS drop - their third consecutive annual decrease, accompanied by a drop in satisfaction with the company's reputation and customers' faith in the claims process.
Within health insurance, Humana saw a 20pt drop in NPS this year, after coming close to perennial winners Kaiser Permanente in 2014. Satisfaction with the company fell significantly on every measure, most notably value for money.
Retail
The NPS trends in the retail industry are markedly different to those in financial services. This year, the Grocery/Supermarket sector continued it's pattern of gradual decline, falling an average of 3pts a year for the last five. Trader Joe's ranking improved without their score moving significantly – the company going from fourth to first place this year with an NPS of 62.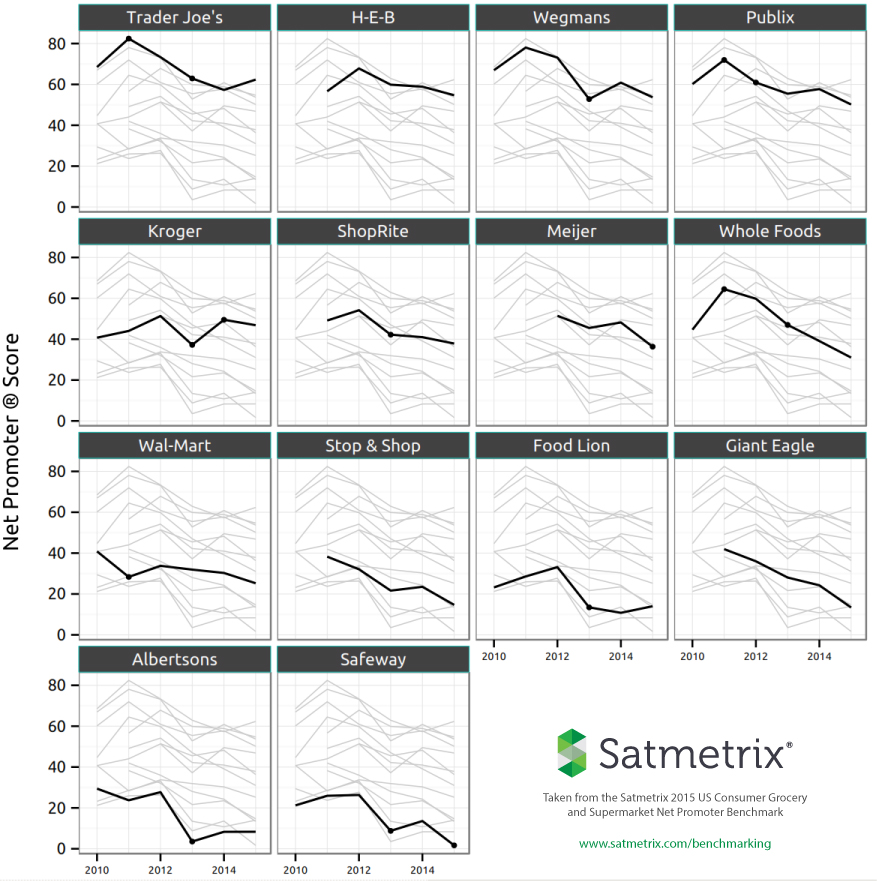 Both Meijer and Safeway's customers were significantly less likely to recommend this year, dropping the companies two places each in the rankings, and putting Safeway into last place with an NPS of just 2pts, just behind last year's laggard, Albertsons.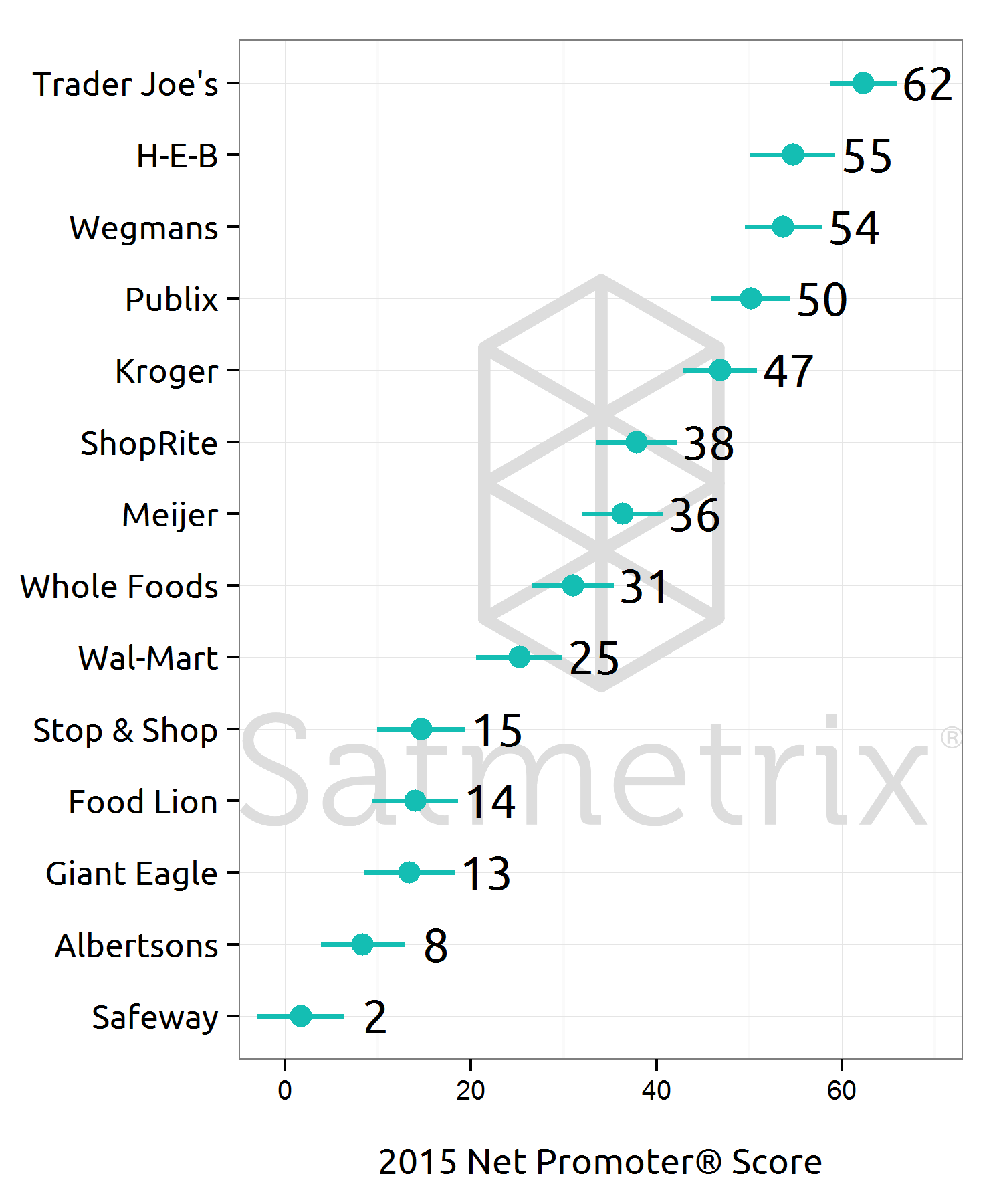 Department Stores
For the first time in six years, USAA do not have the highest NPS across the study! Costco in the department stores sector took that accolade this year, with an NPS of 72, driven by the highest ratings in the sector for both reputation and value for money. Macy's jumped two rankings into 5th place, with a 9pt NPS increase.
Things were generally less positive in online retail. The only e-tailer to show a significant increase was Target.com, driven strongly by large increases in reputation, and safety of payments (albeit, still the lowest in the sector). The increase in scores is likely to be a recovery from Target's disastrous December 2013 data breach.
Some big names in the e-commerce sector took hits in loyalty this year, with eBay and BestBuy.com's scores falling significantly. Customers of both companies rated them lower for price competitiveness this year. Despite it's ship-from-store program, BestBuy.com also saw a reduction in satisfaction with the reliability of shipping, which is below the sector average this year, and significantly lower than Amazon's, who again take the highest NPS in the sector.
In Part II of this series, I'll be covering Technology and Travel, including Uber Vs. Lyft, and Airbnb!
This blog-post © 2015 Satmetrix Systems, Inc. All rights reserved. Satmetrix and the Satmetrix logo are registered trademarks. Net Promoter and NPS are registered trademarks and Net Promoter Score is a trademark of Satmetrix Systems, Inc., Bain & Company, Inc., and Fred Reichheld